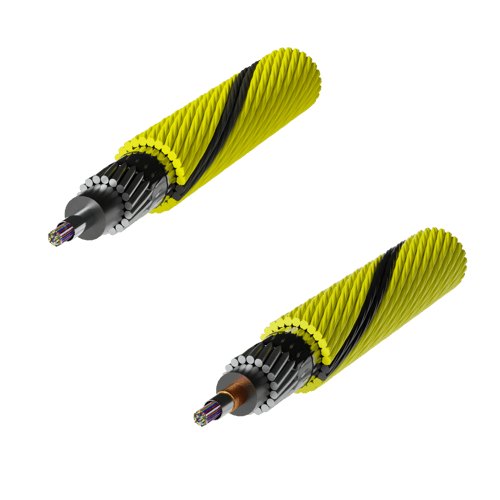 5 ton SAL
Submarine Cable Single Armored Light
GJLTM 12-192 fibers 5-ton SAL / GJZLTM 12-192 fibers 5-ton SAL
Unrepeaterered
Water depth 3000 m
Compact design, only 20 mm in diameter
12-192 optical fibers
With or without electroding conductor
Single layer steel wire reinforcement
Hydrogen protected
Outer protection polypropylene yarns
Unrepeaterered
Water depth 3000 m
Compact design, only 20 mm in diameter
12-192 optical fibers
With or without electroding conductor
Single layer steel wire reinforcement
Hydrogen protected
Outer protection polypropylene yarns
The 5-ton SAL is a light protected, single layer armored, loose tube cable for submarine installation where moderate protection is required.
This submarine cable is based on a hermetically sealed stainless tube. Inside the tube the fibers are free to move in a thixotropic water blocking compound. The steel tube is protected by a polyethylene sheath. Outside the sheath there is one layer of galvanized steel wires. The steel wires are flooded in bitumen.
The complete cable is wrapped with a layer of polypropylene yarns.
The steel wire reinforcement provides reliable mechanical protection, enabling installation and operation during rough conditions.
High packing density of the fibers is provided by the loose tube technique. This permits a small outer diameter and easy handling of the cable.
The fibers are colored for easy identification.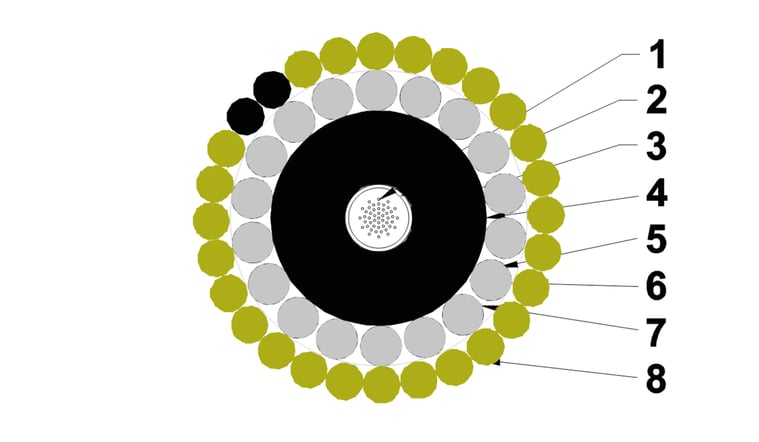 Primary coated fiber: Silica, acrylate
Filling compound: Thixotropic compound, hydrogen absorbing
Tube: Stainless steel
Sheath: Polyethylene, black
Armoring: Galvanized steel wires, single layer 18 x ø2.2 mm
Filling compound: Bitumen
Wrapping: Plastic tape
Wrapping: Polypropylene yarns
Technical Information
Product Color
Yellow with black contrast yarns.
Temperature, Operation [°C]
-30 to +60
Temperature, Storage [°C]
-40 to +70
Temperature, Installation [°C]
-15 to +40
Diameter Ø [mm]
20
Max. Water Depth [m]
3000
Bend Radius, No Load [mm]
500
Bend Radius With Tensile Load [mm]
1500
Bend Radius Coiling [mm]
1500
Weight [kg/km]
800
Weight in Seawater [kg/km]
600
Tensile Force UTS [kN]
60
Tensile Force FBL [kN]
60
Tensile Force NTTS [kN]
50
Tensile Force NOTS [kN]
40
Tensile Force NTPS [kN]
30
Crush Resistance [N/100 mm]
10000
Impact Resistance [J]
200
Marking
The submarine cable is marked with kilometer markers and factory joint markers.
Technical Notes
Mechanical and environmental test in accordance with IEC 60794-1-21
and IEC 60794-1-22
Ordering Information

Fiber specification
Fiber count
With or without electroding conductor
Fiber color code

The cable is supplied in coil, on drum or in container.