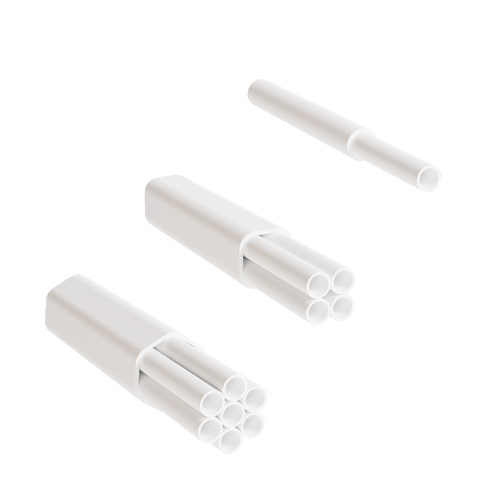 MPB30271+
Microduct Assembly 10/8 mm Indoor
FRD 10/8 mm 1-7 -way
For indoor installation
10/8 mm microducts
Halogen-free, flame-retardant
1, 4 or 7 mm over-sheathed ducts
Low friction inner surface for maximum installation lengths
For indoor installation
10/8 mm microducts
Halogen-free, flame-retardant
1, 4 or 7 mm over-sheathed ducts
Low friction inner surface for maximum installation lengths
The design makes the ducts suitable for all types of indoor installations with micro cables. A typical application is an Hexatronic micro cable system where cables are entering or passing trough buildings. The duct is designed to reduce flame and smoke propagation of both outdoor and indoor rated micro cables. The need for costly cable splicing between indoor and outdoor rated cable sections is then eliminated.
The duct assemblies are available in several versions from 1 to 7 microducts . Each microduct has an outer/inner diameter of 10/8 mm. The microducts and duct assemblies including the outer sheath are made of halogen-free, flame-retardant polymer.
Technical Information
Temperature, Operation [°C]
-20 to +60
Temperature, Storage [°C]
-20 to +60
Temperature, Installation [°C]
-20 to +50
Reaction to Fire
IEC60332-1
Conformance

Abrasion: IEC 60794-1-2-E2B(1)
Kink: IEC 60794-1-2-E10, 20 x outer diameter
Impact: IEC 60794-1-2-E4
Crush: IEC 60794-1-2-E3
Tensile: IEC 60794-1-2-E
Bend: IEC 60794-1-2-E11A
Torsion: IEC 60794-1-2-E
Flexibility: IEC 60794-1-2-E8
Inner Clearance: IEC 60794-5-20, IEC 60794-5-10, Ann. D
Flammability: IEC60332-1

Marking
Duct assemblies have markings showing the tube length. The individual microducts are numbered.
Installation Notes
Refers to empty ducts or ducts installed with Hexatronic micro cable. For a complete list of all valid combinations of cables and duct, please contact Hexatronic. Note that flammability rating cannot be guarranteed for other vendors cables.