Microduct Assembly 16/12 mm with Tracer
Hx1OR-H1-T20N
Microduct Assembly 16/12 mm with Tracer
TWD 16/12 mm 1-7 -way Tr, TIA598 ft
For direct burial
1, 2, 4 or 7 bundled ducts
16/12 mm microducts
Low friction inner surface
Longitudinal grooves for maximum installation lengths
Integrated tracer wire under sheath
Ripcord optional (1-way always supplied with ripcord)
For direct burial
1, 2, 4 or 7 bundled ducts
16/12 mm microducts
Low friction inner surface
Longitudinal grooves for maximum installation lengths
Integrated tracer wire under sheath
Ripcord optional (1-way always supplied with ripcord)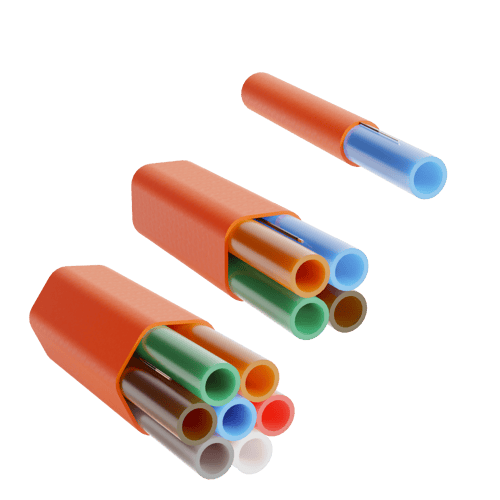 The thick walled microduct are designed with an inner low friction surface that enables installation of micro cables or nano cables. The thick inner wall of the microducts allow for installation directly into the ground without the need for additional protection.
The integrated tracer wire saves time and installation cost since an additional wire for tracing is not required.
The duct assemblies are available in several configurations from 1 to 7 microducts.
16/12 mm microducts are optimized for installation of micro cables and nano cables. The microducts have a low-friction inner surface with longitudinal grooves for best blowing performance.
Technical Information
Color Code
TIA598
Temperature, Operation [°C]
-40 to +60
Temperature, Storage [°C]
-40 to +60
Temperature, Installation [°C]
-20 to +50
Conformance

ASTM F2160: Standard Specification for solid wall HDPE conduit based on controlled outside diameter.

ASTM D3350 (CELL CLASSIFICATION 334480C OR E): Standard Specification for PE plastic pipe and fitting materials-resins exceeding the above cell class in one or more properties is acceptable.

BELLCORE GR-356-CORE – (SECTION 4.2.5): Siloxane additive in duct wall for permanent low Coefficient of Friction per Bellcore Specification.

TESTING: All microducts are tested before and after oversheath with a metal ball 85% of ID.

Marking
Duct assemblies have markings showing the tube length. The individual microducts are numbered and also identified by their color and position in the bundle according to the TIA598 standard.
The assemblies are available in various sheath colors for easy identification.