LTT1792040
Air Blown Fiber Installation Tool
Handheld Blowing Tool For Hextronic Stingray ABF (Ø1.0-1.6 mm)
Class leading installation performance in combination with Hexatronic Stingray Air Blown Fiber
Divisible blowing head for pre-terminated blown fiber
Installation speed of up to 150 m/min
Portable and lightweight
Easy to use and virtually calibration free design
Low noise
Speed locking
Easy push-pull on reel arm
OLED display
For all Hexatronic Air Blown Fibers 2-24 fibers
Includes guides for Microduct dimensions 3, 5 and 7 mm
Class leading installation performance in combination with Hexatronic Stingray Air Blown Fiber
Divisible blowing head for pre-terminated blown fiber
Installation speed of up to 150 m/min
Portable and lightweight
Easy to use and virtually calibration free design
Low noise
Speed locking
Easy push-pull on reel arm
OLED display
For all Hexatronic Air Blown Fibers 2-24 fibers
Includes guides for Microduct dimensions 3, 5 and 7 mm
The blowing tool is used for the installation of Air Blown Fibers into Microducts. This unique, easy-to-handle and lightweight tool is designed for optimal performance in combination with all available fiber units and Microducts in the Hexatronic Air Blown Fiber System.
The blowing tool consists of a body that guides and feeds the fiber unit into the Microduct. The tool uses both compressed air and an electric motor to feed the fiber. An adjustable magnetic coupling limits feeding force on fiber to avoid damage in case of a sudden stop. A Li-Ion battery pack, fitted in the tool handle, powers the motor. The motor speed and direction is controlled by a trigger switch on the handle. The trigger can temporarily be locked to maintain the speed when blowing.
The blowing tool is designed to be used with Hexatronic Air Blown Fiber only. Fiber units with 1-24 fibers can be installed. Nozzles for 3/2mm, 5/3.5mm and 7/3.5mm Microducts are included.
The blowing tool is normally fed with dry compressed air. The compressed air is connected to the tool with a ¼" standard quick connector. For optimal installation performance, an air flow of 80l/min and a nominal pressure of 8 bar is required. For shorter distances, a smaller compressor or a portable pressure canister with a reduction valve can be used. For very short distances (up to 50 m) such as in small multi dwelling units, the fiber can be fed by the integrated electrical motor only, without using any compressed air supply at all. The integrated display shows information about speed, blown length and battery capacity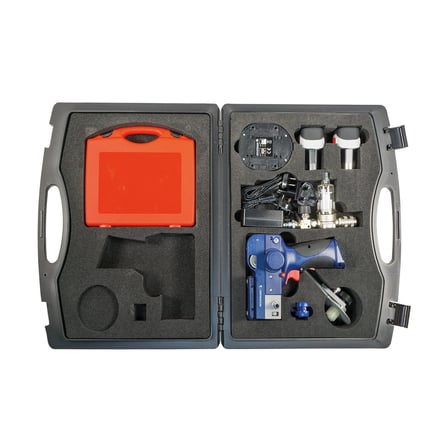 The kit consist of the following items:
Blowing tool
Battery charger
Two Li-Ion batteries
Set of air filter and valve
Reel holder for prefabricated Stingray Reels
Small toolbox with tools and common replacement parts
Two fiber guide sets for 2-6 and 8-12 blown fiber units are included
Nozzles for 3 mm, 5 mm and 7 mm microducts
Microduct cutter
User guide
Carrying case
FIber guide set for 24 fiber blown fibers is available as an optional accessory (not included)
Technical Information
| | |
| --- | --- |
| Conformance | CE & RoHS Compliant |
| Installation Notes | The installation distance and performance depends on several parameters such as number of bends, radius of each bend, temperature, humidity, air pressure, type of fiber unit etc. In normal situations, a blowing distance of typically 1000 m can be expected in combination with Hexatronic Air Blown Fiber and Hexatronic Microducts. The maximum installation speed varies depending on distance and is typically 80-120 m/min (max 150 m/min). |