ODF – The NCD513 Series, Terminated
NCD51380+
ODF – The NCD513 Series, Terminated
Optical Distribution Frame - Pre-terminated
2 U, 19" or ETSI mount
Integrated patch guide option (within 2U)
Small depth 25 mm (within ETSI)
Up to 96 fiber connections
Front service
Supports SC and LC adapters, UPC or APC versions
Pre-connected factory tested connector performance
2 different cable options
2 U, 19" or ETSI mount
Integrated patch guide option (within 2U)
Small depth 25 mm (within ETSI)
Up to 96 fiber connections
Front service
Supports SC and LC adapters, UPC or APC versions
Pre-connected factory tested connector performance
2 different cable options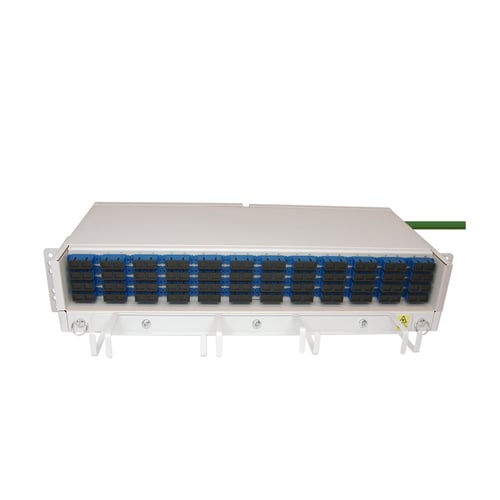 Pre-terminated units are excellent for dense medium to very high number of terminations where rational and fast roll out is critical such as in FTTx networks.
The opened end of the cable is fused either in a splice cabinet on site where the incoming fibers can be rearranged to any ODF-port or in a manhole outside plant. By eliminating the pigtail splicing the method is both easier and faster to splice and increases the quality of the ODFs optical performance.
For large roll outs the actual spreading of work space allows for parallel work to be performed both in the splice point and in the rack end.
Many times a change of cable sheath between outdoor and indoor cable has to be done and by using pre connected ODFs one splice point can often be eliminated.
The installed pre-terminated cable is available in two different versions to suit most installation scenarios and applications:
Micro cable indoor for on site splicing up to 100 m
Traditional concentric core loose tube cable with indoor/outdoor sheath enabling splicing in nearby manholes up to 300m
The internal connectors are directly connected to the fiber without splicing to ensure minimum losses.
The termination unit comprises a chassis, a drawer with front panel for the desired connector type, two angled mounting brackets and a cover.
The mounting brackets fit the chassis in three different locations for various mounting depth.
By turning the brackets the unit will fit either 19" or ETSI rack. The brackets also permit wall mounting.
The horizontal cable guide (NTM 502 11) can easily be integrated onto the ODF unit within the 2U and will not further increase the height of the unit. The front panel is foldable forward to facilitate maintenance (cleaning etc.) of the inside located connectors.
The optical performance of the ODF connections used in the Hexatronic systems is ensuring the right quality and stability over time.
The termination unit is made of painted Aluzinc sheet steel. All products are in accordance with RoHS.
Technical Information
| | |
| --- | --- |
| Product Color | Coral white |
| Insertion Loss, max [dB] | 0.30 |
| Return Loss, min [dB] | SC/UPC & LC/UPC: 50, SC/APC & LC/APC: 60 |
| Technical Notes | The cable enters from the back on the right side. |