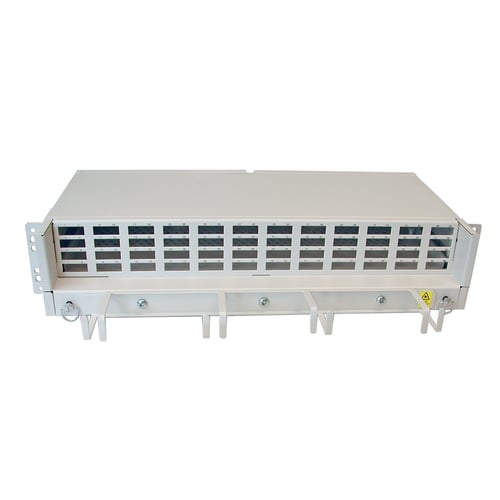 NCD5139+
Optical Distribution Frame - 2U
2U for 19" or ETSI mount
Small depth 250 mm (within ETSI)
Up to 96 fibers (using 48 x SC duplex cut out slots)
Front serviced
Supports SC, FC, ST and LC adapters
2U for 19" or ETSI mount
Small depth 250 mm (within ETSI)
Up to 96 fibers (using 48 x SC duplex cut out slots)
Front serviced
Supports SC, FC, ST and LC adapters
The unit is typically used for sites where the incoming cable (up to 96 fibers) allows to be terminated directly in the ODF. A kit is available to double the capacity for typically 144 / 192 fiber cables by mounting two ODFs together. The ODF supports a wide selection of connector and incoming cable options. This type of ODF is also available in pre-terminated versions for more efficient installations (see separate prod data sheet).
The unit is suitable for the installation of pigtails or pre-connectorized cables. Internal fiber guides and holders are included.
A horizontal patch guide can be integrated within the 2U-ODF and will not further increase the height of the unit, giving high functionality in a very small space.
The termination unit comprises a chassis, a drawer with front panel, a combined cable entrance/strain relief, two angled mounting brackets and a cover. All done in a modular way for front serviced time saving installations and maintenance.
The mounting brackets fit the chassis in three different locations for various mounting depth.
By turning the brackets the unit will fit either 19" or ETSI rack. The brackets also permit wall mounting.
The front panel is forward foldable to facilitate maintenance (cleaning etc.) of the connectors located inside.
The optical performance of the ODF connections used in the Hexatronic systems is ensuring the right quality and stability over time.
Technical Information
| | |
| --- | --- |
| Product Color | Coral white |
| Technical Notes | The termination unit can be fitted with cable entrances for up to 4 cables with maximum outer diameter of 20 mm, two from each side, located at the rear. |
| Ordering Information | Adaptors are not included. "Blind plugs" are available to cover empty adapter slots in case of adaptation to lower numbers of connections. |