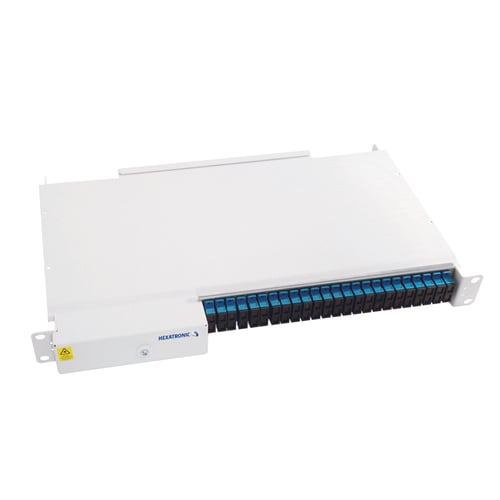 NCD5200013+
ODF for Air Blown Fiber Installation
Optical Distribution Frame - ABF, 1.5U
1U for 19" standard width
Small depth 280 mm
Up to 48 fibers (using 24 x SC duplex cut out slots)
Front serviced
Supports all connector interfaces that fits into SC-duplex cutout
Up to 48 microducts 3, 5 or 7 mm
1U for 19" standard width
Small depth 280 mm
Up to 48 fibers (using 24 x SC duplex cut out slots)
Front serviced
Supports all connector interfaces that fits into SC-duplex cutout
Up to 48 microducts 3, 5 or 7 mm
This Optical Distribution Frame (ODF) is intended for termination of air blown fibers in microducts as well as traditional cables. The ODF is typically used in FTTH networks for sites close to the Central Office or where any distributed 19" rack system is used.
The incoming ducts enter the unit from behind. The unit is suitable for incremental blowing to or from the ODF since it is fully serviced from the front. The fibers coming in to the unit can be either spliced to pigtails within the ODF or if blown with pre-connected EPFU from the ODF spliced elsewhere.
All the necessary holders for splice protection sleeves, strain relief holders, etc is included. Splice sleeves, adapters and pigtails / fan-outs are selected optional to suit the current need.
Horizontal patch guides or storage units to be mounted underneath the ODF is available as optional accessories.
The termination unit comprises a chassis, a drawer with front panel, duct holders, and a cover. The mounting brackets fit both 19"-standard mount and metric (ETSI) mounting holes.
The inside connectors are easily reached for maintenance from both upper and lower sides after opening the drawer. All done in a modular way for front serviced time saving installations and maintenance.
The termination unit is made of painted Aluzinc sheet steel. All products are in accordance with RoHS.
Technical Information
| | |
| --- | --- |
| Technical Notes | The microduct assemblies or cables enter the termination unit from the left side. Several multi-ducts of various sizes can enter the 90 x 38 mm sized inlet. The internal duct holders are designed for 3, 5 or 7 mm micro-ducts. |
| Ordering Information | Adaptors are not included. "Blind plugs" are available to cover empty adapter slots in case of adaptation to lower numbers of connections. |