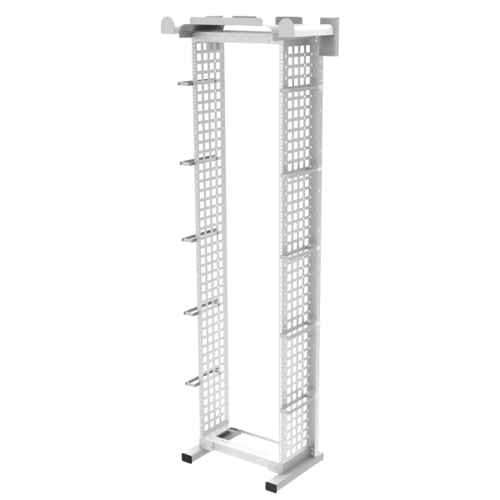 LM-5211+
19" Rack with built-in cable chute for easy patch handling. Earth rail for 10 connections and adjustable wall mounts and feet. Available in with or black (42U)
Small footprint and three different heights.
Patch cable over-length handling inside the foot print of the rack system or in external patch handling module
Supports patch cable assemblies and MPO based cable assemblies for efficient and fast fiber termination
Small footprint and three different heights.
Patch cable over-length handling inside the foot print of the rack system or in external patch handling module
Supports patch cable assemblies and MPO based cable assemblies for efficient and fast fiber termination
The 19" standard Rack System offers a high-capacity, easy installed fiber management system to organize and terminate large quantities of fiber. The Rack System normally constitutes the cabling interface between any active fiber access node and the subscriber line side.
The system is designed typically for FTTH networks, such as Point to Point (P2P) and/or PON but suits any type of network, metro or transport, with a high number of fiber terminations with space for patch cords or multi cable assemblies.
The Rack System consists of a 19" rack to host optional Optical Distribution Frames (ODF's), splitter ODF's or splitter modules in supporting frames.
The established 19" standard modular architecture makes it easy to configure the system to meet specific requirements and future needs. New hardware, additional ODF:s or splitter module configurations are easily added.
A fully equipped ODF cabinet supports up to 2016 connectors of SC-type."
Low height may be essential since many nodes in FTTH systems are not positioned in traditional Telecom rooms giving enough roof space. Cables are normally routed from the top of the rack but there is also an option to add an additional cable channel (accessory) placed in the bottom of the rack.
The rack can be attached to a wall by using the included wall brackets or, optionally, the floor attachment accessory can be utilised.
The fiber from the patch cables can be stored both inside the rack, for instance by using 10" or 14" ODF systems, or outside the rack by using the external patch overlength accessory solution.
All installation and maintenance is performed from the front of the cabinet."
Technical Information
| | |
| --- | --- |
| Product Color | White or black |