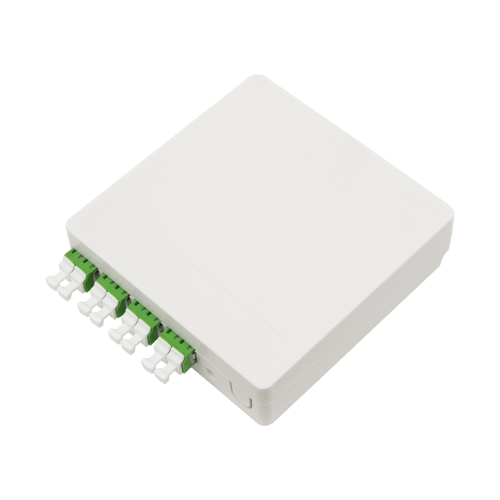 FCLC-DIS-ICB
Discreet customer wall outlet
Compact
Multiple Services
Up to 8 connections (LC/APC)
Suitable for duct or cable
100x100x27mm
Cable entry from rear or bottom or Top
Suitable for Inline Extraction cable
Flip tray for easy access
Fibre management secures minimum bend radius
Compact
Multiple Services
Up to 8 connections (LC/APC)
Suitable for duct or cable
100x100x27mm
Cable entry from rear or bottom or Top
Suitable for Inline Extraction cable
Flip tray for easy access
Fibre management secures minimum bend radius
Internal customer wall plate for the final connection point inside a customers premises.
Under desk connection point for fiber to the desk applications in office settings.
Designed to provide a compact, discreet location for multiple services to present inside a customer premises.
A compact residential outlet for up to 4 fibres terminated with SC connectors (8x LC). Hinged optical splice tray can house up to 8 splices in either Heat shrink or Crimp Splices.
A screw fixing allows the installer to prevent any accidental access to the splice area.
Dimensions (mm): 100x100x27
Weight: 80g
Ports: 2 cable, 4 patch
Cable Diameter: 10mm
Splice Capacity: 8
Patch Capacity: 8 (LC)
Technical Information