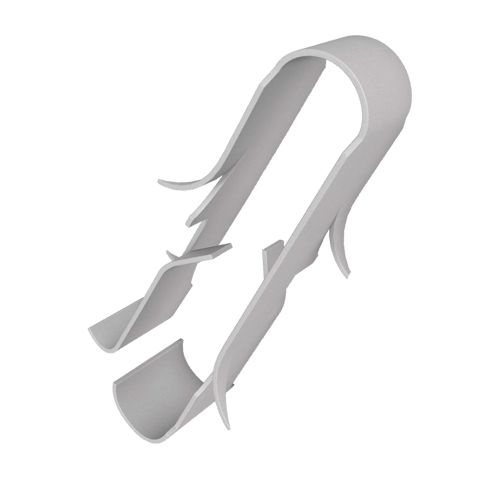 ENFF-DIS-CLIP-3MM-MTL
Incredibly strong and invisibly small cable wall-clip
Discreet Cable Clip
2-3mm Dia Cable
Indoor / Outdoor
18th Edition compliant cable clip
Secure, single-component design
Quick & easy installation
No plastic
Melt point >1200°C
No plugs, screws or washers are needed
Corrosion-Resistant, UV Stable Coating
Suitable for indoor or outdoor use
Discreet and barely visible
Made in Britain
Discreet Cable Clip
2-3mm Dia Cable
Indoor / Outdoor
18th Edition compliant cable clip
Secure, single-component design
Quick & easy installation
No plastic
Melt point >1200°C
No plugs, screws or washers are needed
Corrosion-Resistant, UV Stable Coating
Suitable for indoor or outdoor use
Discreet and barely visible
Made in Britain
Low visibility Cable Wall Clip for retaining fiber optic cables along walls.
TheNanoClip™ is a fire-safe, 18th Edition compliant cable clip designed to fit 2mm and 3mmFibre Optic cables, hearing loop cables and other small diameter cables. TheNanoClip™ is suitable for domestic, commercial, and industrial use and ideal for any installation where a faster, safer, simpler... and smaller solution is needed.
Hexatronic is an official, proud stockist and distributor of LINIAN in the telecoms industry.
THE NEW LINIAN NanoClip™ – an incredibly strong and invisibly small solution for installing fibre cables and other small diameter cables. Perfect in conjunction with the Hexatronic Discreet Cabling Solution.
Our insert tool for the Discreet NanoClips (FOTX-DIS-CLIP-PUSH) is also available to aid the swift installation
Technical Information
| | |
| --- | --- |
| Product Color | White |
| Temperature, Operation [°C] | -45 to +80°C |
| Temperature, Storage [°C] | -45 to +80°C |
| Reaction to Fire | Fire Resistant - 18th Edition Compliant |
| Conformance | 18th Edition Compliant |