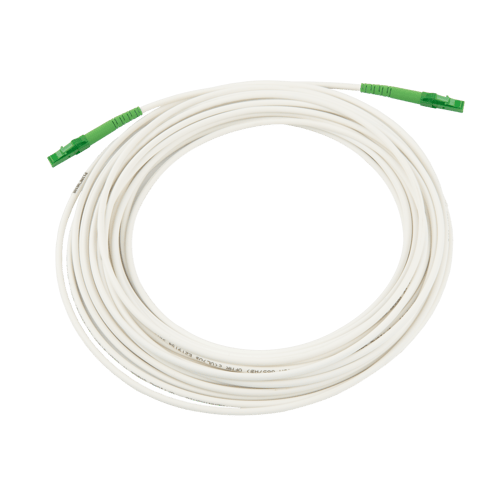 FTAC-Wx
FTTX Internal Drop Cable for indoor distribution requirements
G657A2 bend-resistant fiber for safe installations
Extra robust design, suitable for end-user connections
Halogen-free flame-retardant material (HFFR)
Lowest insertion loss
Various connector options
Dca & Cca CPR rated
G657A2 bend-resistant fiber for safe installations
Extra robust design, suitable for end-user connections
Halogen-free flame-retardant material (HFFR)
Lowest insertion loss
Various connector options
Dca & Cca CPR rated
The FTAC-W series is designed to meet the standards mainly used in FTTH networks where a more robust patch cord is required. Available in UPC and APC variants.
The FTAC-W series has a very good temperature performance, making them very stable over time in various environmental conditions.
The small bending radius of only 10 mm due to the G657A2 fiber, minimizes losses when installed or handled during installation.
The patch cords are designed with Ø 0.9 mm tight-buffered secondary coating and a strength member made up of aramid yarn. The outer jacket is made of a low smoke, zero halogen (LSZH) material giving excellent protection and is UV resistant
Technical Information
Product Color
White
Temperature, Operation [°C]
-30 to +70
Temperature, Storage [°C]
-40 to +70
Temperature, Installation [°C]
-20 to +50
Fiber Type
G657A2
Insertion Loss, max [dB]
0.30
Return Loss, min [dB]
55
Conformance

IEC 61754 series: Fiber connector interfaces

IEC 61755 series: Fiber optic connector optical interfaces

IEC 61753 series: Fiber optical interconnecting devices and passive components performance standard

IEC 61300 series: Fiber optic interconnecting devices and passive components – basic test and measurement

IEC 60794-2-50: Indoor optical fiber cables for simplex and duplex cables for use in patch cords

ITU G657A2: Characteristics of SM optical fiber

IEC 60332-3-24: Test - flame propagation of Ø 2 mm patch cables installed vertically in shafts

UL94 V-0: Flame resistance on connectors

Technical Notes
Insertion loss measured according to IEC61300-3-4
Return loss measured according to IEC61300-3-6