High Performance Air Blown Fiber – Dual-end, Pre-terminated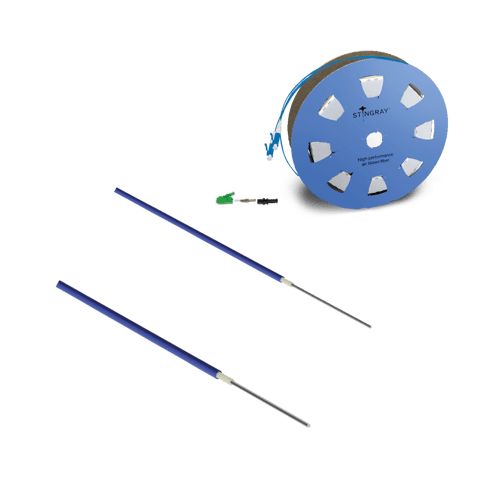 1/RPM258+C1
High Performance Air Blown Fiber – Dual-end, Pre-terminated
ABF 2 fibers G657A1 TIA598 - Reel
Pre-terminated fiber on reel
Blowable ferrule at outer end
Time saving installation
Several connector options
Extra strong and durable design
Smooth, low-friction sheath
2 fibers, G657A1 bend resistant fibers
Extra wide operational temperature range
Water and Ice tested
State of the art blowing performance
Zero sheath shrinkage
Pre-terminated fiber on reel
Blowable ferrule at outer end
Time saving installation
Several connector options
Extra strong and durable design
Smooth, low-friction sheath
2 fibers, G657A1 bend resistant fibers
Extra wide operational temperature range
Water and Ice tested
State of the art blowing performance
Zero sheath shrinkage
Hexatronic Stingray is a high performance Air Blown Fiber Unit intended for blowing into microducts. The main application area is for fiber access networks such as Fiber To The Home (FTTH).
The Hexatronic Stingray Air Blown Fiber is designed with durability and performance in mind. The unique design offers a combination of properties previously not available on the market. A sturdy fiber unit with state of the art fiber blowing performance increases the installation success rate and provides quick and problem free installation. The Stingray has a unique sheath material with zero sheath shrinkage, which means no fragile splice points or sensitive installations in wall outlets or fiber cabinets.
The Air Blown Fiber unit is colored dark blue for good visibility when installed in semi-translucent microducts.
The Air Blown Fiber is delivered in fixed lengths on cardboard reels with pre-terminated connector at inner end and blowable ferrule at outer end. For optimum blowing performance, use the Hexatronic Air Blown Tool LTT 179 2040.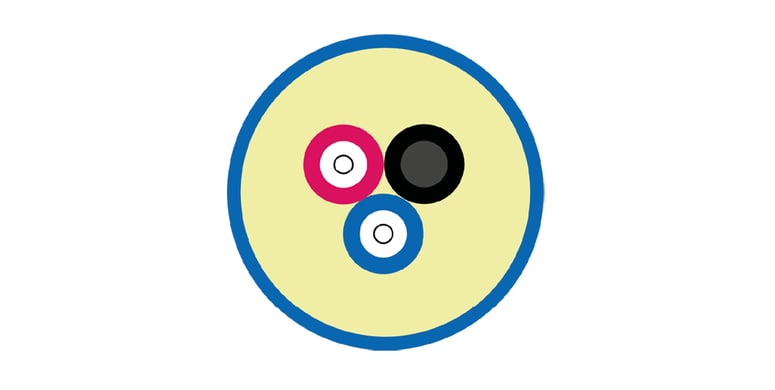 Primary coated fiber: Silica, acrylate
Primary coating: UV-cured acrylate
Sheath: Low friction polyolefin
A mechanical filler is used in the 2-fiber unit.
Technical Information
Product Color
Dark blue
Color Code
TIA598
Temperature, Operation [°C]
-40 to +70
Temperature, Storage [°C]
-40 to +70
Temperature, Installation [°C]
-15 to +50
Fiber Type
G657A1
Attenuation @Wavelength [nm]
1310/1550
Maximum Attenuation [dB/km]
0.38/0.25
Insertion Loss, max [dB]
0.25
Return Loss, min [dB]
SC/UPC & LC/UPC: 55, SC/APC & LC/APC: 65
Conformance

Air blown fiber: IEC 60794-5-20
Bend radius: IEC 60794-1-21, Method E11
Crush resistance: IEC 60794-1-21 Method E3
Kink: IEC 60794-1-21 Method E10

Tensile force during installation: IEC 60794-1-22, Method F1

Fiber parameters and tests according to the IEC series 60793-2 and 60793-1

Technical Notes
Water immersion and repeated freeze test:
Hexatronic standard test, 100 cycles, –25, to +15ºC
Installation Notes

Typical installation performance:

Ducts ID 3.5-4 mm: Recommended upto 500 m

Installation performance is affected by the installed path, environmental conditions, installation equipment etc and actual performance may therefore deviate from the above specified value

Ordering Information

Supplied lengths: Fixed lengths from 25 to 500m

Delivered on miniature cardboard reels