HTSR3941+
OM4
High performance 50 µm OM4 fibers
SC, LC or ST connectors
Halogen-free flame-retardant material (HFFR)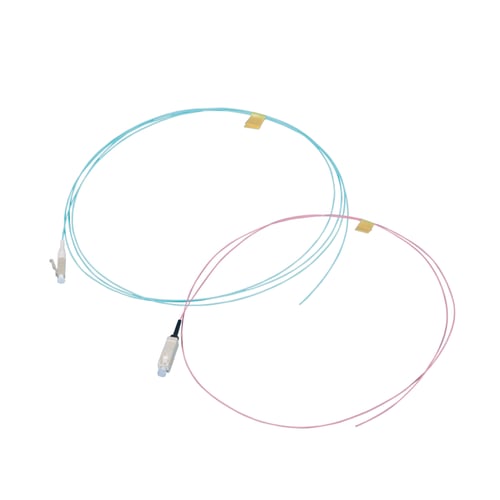 The HTSR 394+ series of multimode pigtails is designed to meet the standards mainly used in datacenter and general purpose local area network applications. The precision polished connectors ensures low insertion loss and lowest back reflection.
The HTSR 394+ series has an extended operating temperature range, -30ºC to +70ºC. This makes them very stable over time in various environmental conditions.
The pigtails are designed with Ø 0.9 mm buffered secondary coating and are made of halogen-free flame-retardant (HFFR) material giving excellent protection.
Technical Information
Temperature, Operation [°C]
-30 to +70
Temperature, Storage [°C]
-40 to +70
Temperature, Installation [°C]
-20 to +50
Fiber Type
OM3;OM4
Insertion Loss, max [dB]
SC: 30, LC: 30
Return Loss, min [dB]
SC: 30, LC: 30
Conformance

IEC 61754 series: Fiber connector interfaces

IEC 61755 series: Fiber optic connector optical

interfaces

IEC 61753 series: Fiber optical interconnecting devices and passive components performance standard

IEC 61300 series: Fiber optic interconnecting devices

and passive components – basic test and measurement

IEC 60794-2-50: Indoor optical fiber cables for simplex and duplex cables for use in patch cords

OM1-OM5: Characteristics of MM optical fiber

IEC 60332-3-24: Test - flame propagation of Ø 2 mm patch cables installed vertically in shafts

UL1666

UL94 V-0: Flame resistance on connectors

Technical Notes
Insertion loss measured according to IEC61300-3-4
Return loss measured according to IEC61300-3-6