D10+
Purple 900µm
OM4 50/125 fiber for standard installations
Halogen-free flame-retardant material (HFFR)
Various connector options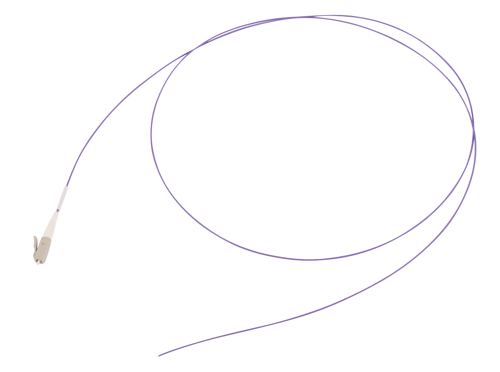 The D10+ series is designed to meet the standards mainly used in access and transport termination points. Polished Connectors (PC) ensures low insertion loss and minimal back reflection. All assemblies are marked with a unique ID-number and all measurment data is stored
The D10+ series has an extended operating temperature range, -40ºC to +70ºC. This makes them very stable over time in various environmental conditions.
The bending radius is 25 mm when installed or handled during installation.
The pigtails are designed with Ø 0.9 mm buffered secondary coating and are made of halogen-free flame-retardant (HFFR) material giving excellent protection.
The contact housing made of plastic or metal and the ferrulle is made of Zirconia. Each pigtail is equipped with a dust cover and packed in a sealed plastic bag.
The label indicates light attenuation (IL) and reflection (RL) metrics. Can also be supplied in multipacks with 12 or 24 pcs pigtails.
Technical Information
| | |
| --- | --- |
| Product Color | Purple |
| Temperature, Operation [°C] | -40° to +70° |
| Temperature, Storage [°C] | -40° to +70° |
| Temperature, Installation [°C] | -40° to +70° |
| Insertion Loss, max [dB] | UPC ≤0.2 dB / APC ≤0.12 dB |
| Return Loss, min [dB] | UPC ≥55 dB / APC ≥65 dB |