NSF151601+
For figure-8 or Self Supporting Cables and Microducts
Heavy-duty, wedge clamp for aerial ducts and cables
Easy installation
Reduces the risk of injuries during emplacement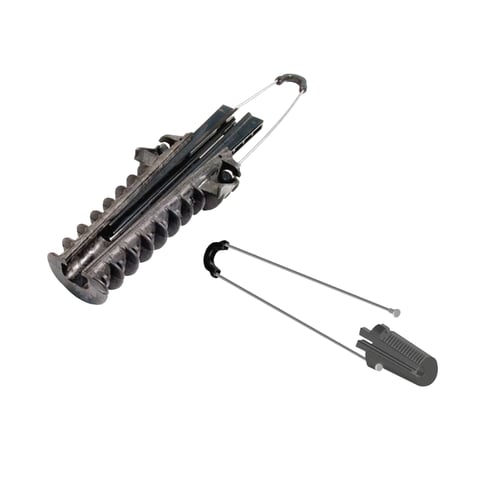 The aerial duct support fittings are of the wedge clamp type and very easy to install. They are easily mounted to the duct assembly without any cutting or splitting. The fitting is very gentle to the ducts due to the length and shape of the wedge and provides for quick and easy installation.
Designed for ducts with a Fiber Reinforced Plastic (FRP) messenger figure-8 shaped duct assembly or self supporting drop ducts.
The design of clamp reduces the risk of injuries during emplacement.
The installation time is cut down to a minimum. The time usually spent preparing the duct-assemblies can be saved and the use of knives, stripper, is no longer required.
Since no cutting tools are required to secure the duct-assemblies aloft, there is an enormous reduction to the risk of injury to
the lineman.
The design enables huge savings In installation time, training time, products and maintenance.
Body: UV protected thermoplastic
Wedges: UV protected thermoplastic
Bail: Stainless steel