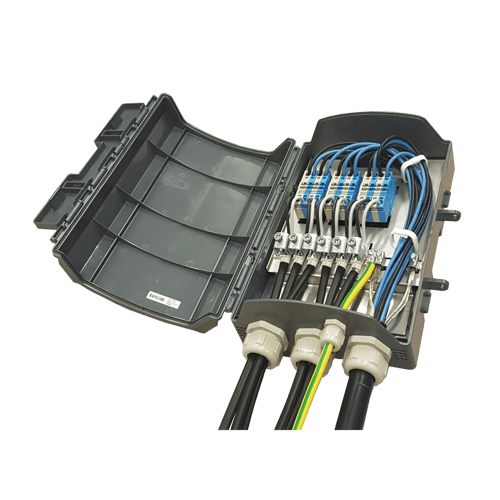 HNCD5071020+
Power To The Antenna Termination Closure
Power Termination for up to 6 RRU units
Spring load terminal block for easy and secure termination
Bridgeable termination blocks enables higher power load on dedicated wire terminals
Discrete design and low visual impact
Durable UV-protected plastic
Easy termination of jumper screen to ground
Protection level IP54 with respect to dust and water
Adapted for smooth and fast installation
Power Termination for up to 6 RRU units
Spring load terminal block for easy and secure termination
Bridgeable termination blocks enables higher power load on dedicated wire terminals
Discrete design and low visual impact
Durable UV-protected plastic
Easy termination of jumper screen to ground
Protection level IP54 with respect to dust and water
Adapted for smooth and fast installation
Cable and termination box system for interconnecting power between RRU and the RBS in outdoor radio base applications.
The Power Termination Box is designed to handle up to 6 RRU systems. Termination blocks are spring loaded for easier termination of power cords. Bridgable to support higher power load on dedicated wire combinations. Groundbar with wire termination from multi power feeder cable and site ground. Termination of power jumper cables to RRU in terminal blocks with screen termination to groundbar by standard cable fastenings. Cable glands for jumper power cables are equipped with grommets to handle three cables each.
The Power Termination Box is made of UV-protective plastics, Polycarbonate (PC). The box is intended for mounting on poles up to Ø110 mm with hose clamps or wall mounting with use of enclosed fastening elements.
Technical Information
Product Color
Dark grey
Temperature, Operation [°C]
-30 to +70
IP Rating
IP54
Certifications
UL94-V0
Technical Notes

Terminal Blocks - Wire size 1.5 to 10mm²

Grounding cable clamps - Wire size 2x10mm² + 1x25mm²

Cable glands

Multi power feeder cable 24-28 mm
Grounding wire 7-10.5 mm
Power jumper cable 3x 9-11 mm

Installation Notes

Suitable Cables and Accessories:

Multi power feeder cable, TFL700020 RQAFQ 6x2x6mm² + 2x10mm²
Power jumper cable, TFL492324/CU (UL)RLAFH 2x10 AWG (2x6mm²)
Plug-In Bridge HNCD5071020/2