Compressor for Air Blown Fiber Installations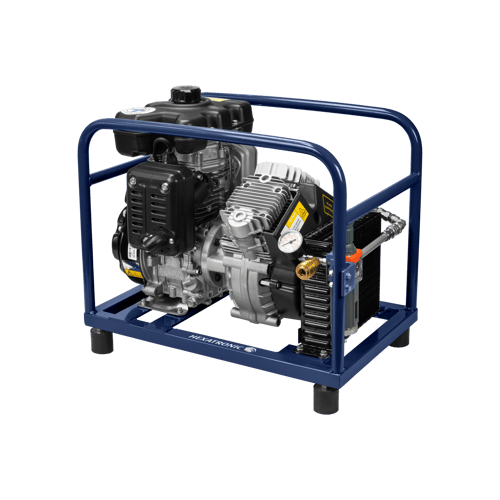 HLTT180100+
Compressor for Air Blown Fiber Installations
Fiber Optic Blowing Compressor (Petrol), 270 lpm
Designed for blowing fibre
Consistent airflow (no undulation)
Low maintenance design
Lightweight for easy movement to site (20 kg)
Unique connecting rod for perfect balance
V - Configuration oil-less compressor pump
Oil free air production
Tankless design
Cast aluminium construction
Heat-treated components for longer life
Stainless steel valves
Air cooling radiator with pressure stabilising valve
Condensate filter
Heavy-duty flexible reinforced delivery pipe
Full wrap-around frame for protection and portability
Supplied with 'Instantair' coupler
Designed for blowing fibre
Consistent airflow (no undulation)
Low maintenance design
Lightweight for easy movement to site (20 kg)
Unique connecting rod for perfect balance
V - Configuration oil-less compressor pump
Oil free air production
Tankless design
Cast aluminium construction
Heat-treated components for longer life
Stainless steel valves
Air cooling radiator with pressure stabilising valve
Condensate filter
Heavy-duty flexible reinforced delivery pipe
Full wrap-around frame for protection and portability
Supplied with 'Instantair' coupler
The miniature compressor is used for installations of Air Blown Fibers and nano cables into microducts.
This unique, silent and compact compressor is designed for optimal performance in combination with the Hexatronic Air Blown Fiber tool LTT 179 2040.
The compressor consists of a twin-cylinder oil-free pump built into a robust metal frame.
The compressor design, without a tank, offers a constant and high capacity air-flow without interruptions for pressure-build up. The oil-free design eliminates problems with leaking oil that can permanently damage microducts.
The low noise and lightweight design makes the daily work enjoyable.
The compressor is fitted with a ¼" standard (CEJN) quick connector for quick and easy connection to the Hexatronic ABF tool.
Technical Information
Product Color
Dark blue
Temperature, Operation [°C]
0 to +40
Conformance
CE
Technical Notes

Weight: 20 Kg
Engine: 3 HP
Max pressure: 10 bar
Max air flow: 270 l/min / 9.5 CFM
Noise level: 80 dBLpA / 94 dB LwA
Fuel tank capacity: 3.5 l

Installation Notes
Installation performance is affected by cable type, microduct, installed path, environmental conditions, installation equipment etc and actual performance may therefore deviate from the above specified typical value.
According to Directive 2003/10/EC, Lequ, 8h = 85dB(A). Note that other connected equipment may cause additional noise pressure. Always check your system, and in doubt, measure the noise pressure level before use.