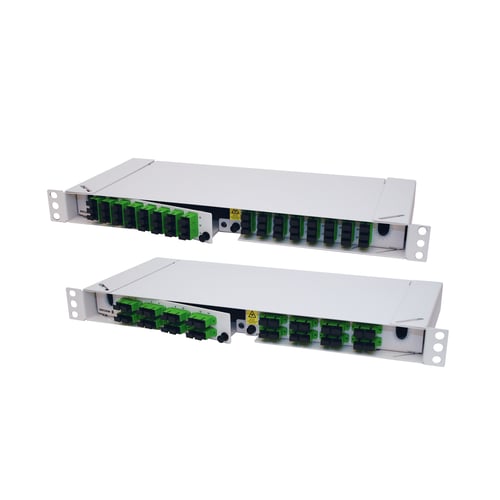 NCD5205000+
Optical Distribution Frame for Patching, 1U
1U for 19" standard width
Small depth 200 mm (within ETSI)
Panels for 32 or 48 SC (LC) connections
Front serviced
Supports SC and LC adapters
Lightweight
1U for 19" standard width
Small depth 200 mm (within ETSI)
Panels for 32 or 48 SC (LC) connections
Front serviced
Supports SC and LC adapters
Lightweight
The ODF panel is mainly used for interconnection between units within sites and fits in 19" standard racks also with metric mounting pattern. The ODF supports SC-cut out type of adaptors.
The unit is designed for installation of pre-terminated cables. The units are available in two panel sizes both with maximum number and without adapters mounted. It is front serviced and consists of two panels possible to swing out for easy installation and maintenance.
The front panels are designed with a slot function in each corner which allows for easy and fast installation of the incoming pre-connected patches. The divided front can be used for A and B side in a system. The in and outgoing patches on the two sides should be guided to the left and to the right respectively.
Horizontal patch guides or storage unit to be mounted underneath the ODF is available as an optional accessory.
The termination unit is made of aluminum. All products are in accordance with RoHS.
Technical Information
Product Color
Coral white
Ordering Information
Adaptors are either pre assembled for the most commonly used
configurations or left out for lower numbers or mix of connector types.
"Blind plugs" are available to cover empty SC –duplex.